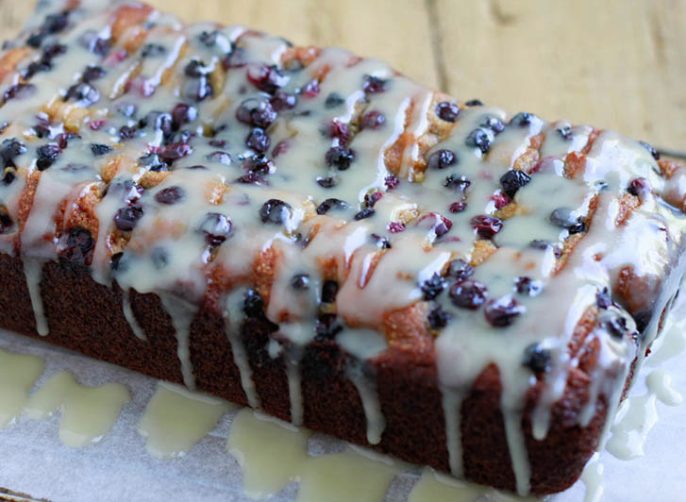 Ingredients
INGREDIENTS

1 and 1/2 cups blanched almond flour (I like

 

THIS

 

brand)
1/4 cup coconut flour, sifted (I like

 

THIS

 

brand)
1 teaspoon baking soda
1/4 teaspoon salt
4 eggs
1/2 cup

 

coconut oil

 

or

 

ghee, melted
1/3 cup honey or maple syrup
3 Tablespoon lemon juice
zest from 2 lemons
1 and 1/2 cups fresh blueberries
Glaze:
1/3 cup coconut butter, softened (I use

 

THIS

 

brand)
2 Tablespoon coconut oil, melted
2 Tablespoon honey (I use local, raw honey; although this one is tasty or maple syrup)
2 Tablespoon lemon juice and/or 1 to 2 drops *lemon essential oil
Hot water
Directions
Preheat oven to 350 F.  Grease a loaf pan and cut a piece of parchment paper to line the bottom of the pan.
Combine almond flour, coconut flour, baking soda, and salt in a large bowl.  Set aside.
Whisk together eggs, coconut oil, honey/maple syrup, lemon juice, and lemon zest until well combined.
Add wet ingredients to dry and mix until well incorporated.
Spread one-third of the batter onto bottom of prepared pan.  Sprinkle 1/3 of the blueberries on top.  Spread another third of the batter and another third of the blueberries.  Repeat one more time with the remaining batter and berries.
Bake 32-37 minutes, until toothpick inserted into the center comes out clean.  Cover with foil if top begins to brown too much.  Remove from oven and allow to cool.
While loaf cools, prepare the glaze by whisking together all of the glaze ingredients.  Add hot water 1 tablespoon at a time until you have a glossy, liquid, smooth consistency. Once the loaf has cooled, remove from pan and pour glaze over top of the loaf, letting it drips down the sides.  Enjoy!!